Industry Partners
The Carl Benz School of Engineering (CBS) was founded in 1999 as part of the internationalization strategy of the former University of Karlsruhe (TH), now Karlsruhe Institute of Technology (KIT), in close cooperation with e.g. the DAIMLER AG as one of the members of the industry board of the International Department gGmbH, where the CBS is situated at. The vision was and is to train international specialists in "German engineering" and secure them for German industry.
The concept combines the excellent teaching from KIT in Mechanical Engineering (also see the KIT Ranking) with individual and practice-oriented career preparation and study guidance. In a college like structure additional training courses such as German language courses, intercultural training and business education as well as close cooperation with industry prepare CBS students ideally for the job market.
The Carl Benz School offers an English-language mechanical engineering program that concludes with a Bachelor of Science (B.Sc.). In the main course of study, students will be able to choose between a focus on global production, energy or automotive technologies. Thus, young engineers are trained for promising careers in future technologies.
A strong industry reference: Part of the concept is the high practical relevance from the beginning of the study. Industry partners like the DAIMLER AG, ZEISS or BOSCH are part of the program SmartFactory@Industry of the CBS. The program provides CBS students with an early insight into the companies, give them a chance to prove their competencies in small projects on the shop floor and make contact with potential employers. A win-win situation for students and our industry partners.
Benefits for CBS industry partner: Many alumni of the Carl Benz School decide to pursue a career in Germany after graduating. However, for some of our partner companies, engineers trained in Germany also offer great potential for open positions at their international locations. And of course the Bachelor program can be ideally used as a recruiting tool for Human Resource Departments in times of the war for talents.
How can companies recruit talented engineers in the future?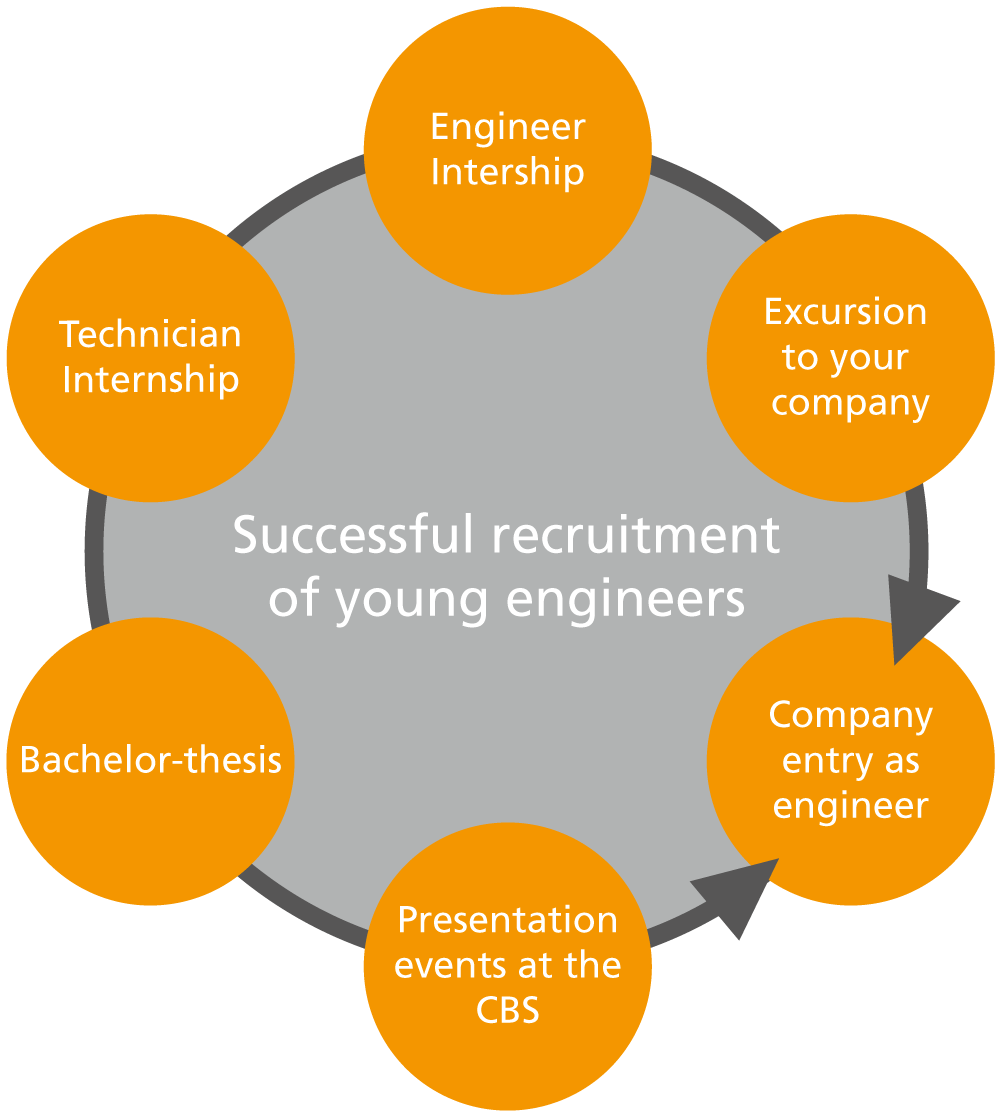 Companies have many possibilities of attracting young engineers for their business. CBS offers:
Get to know students with suitable skills at excursions to your company.
Present yourself to students at our campus in Karlsruhe and talk about your company as an employer and possible career paths.
Or do you prefer getting to know our students work first-hand?
Internships as a recruiting tool

We are happy to assist you with the preselection of students for basic industrial traineeships and advanced traineeships.
Basic industrial traineeship

Advanced traineeship

The activities content wise should be equivalent to those of a technician. E.g.

Transforming manufacturing processes
Thermal joining and cutting processes

The activities content should wise be equivalent to those of an engineer. E.g.

Tool making and fixture construction
Design, development and construction preparation
Requirements on international offspring

The students of the Carl Benz School are international: Do you fear a lacking knowledge of the German language? There is no need to. Some of our students initially began to learn German when they came to Germany. If good German skills are crucial for you, we can adjust our preselection accordingly. Another possibility is the placement of a language-tandem. This way, we select a minimum of two students as interns, of which one is business fluent in German. Therefore, language barriers are not a problem.

If your company works on an international scale, you will find students at the Carl Benz School that possess language- and cultural knowledge from your target areas.
What is a industry cooperation going to look like in practice?

There is not THE standard model for university cooperation with the Carl Benz School. As each company has individual requirements, our cooperation will be custom-tailored for your needs. We provide as many cooperation's models as your company has demands.