The application portal of the Karlsruhe Institute of Technology (KIT) has been closed on April 30th, 2020. The application portal opens again for the next application period in Winter 2020 for all students interested in the B.Sc. Mechanical Engineering (International).
What are the admission requirements?
High School Degree (e.g. IB, GCE A-level, US High School Diploma, German Abitur or others!)
Excellent Grades in Mathematics & Physics
English Proficiency Test (TOEFL, IELTS or TOEIC)
Applicants to the B.Sc. Mechanical Engineering (International) program for the Fall 2020 semester may apply with their TOEFL Take Home Edition scores. All applications must be submitted by the April 30th application deadline.
Because of the exceptional circumstances, both due to COVID-19 pandemic and the suspension of SAT testing, applicants can apply for the B.Sc. Mechanical Engineering (International) and the CBS College Program also without SAT scores.
What do I need in order to apply?
Our admission requirements and documents are aimed at identifying those areas of your academic and personal profile that make you unique, and to make sure that you are the right fit for Carl Benz School of Engineering.
Please download our admission FAQs for all relevant information!
How can I apply for Carl Benz School?
The path to Carl Benz School consists of several steps. First of all you should check if you meet the above mentioned admission requirements. If you are confident that you met the requirements you can register on the KIT application portal, fill in the application form and upload the supporting documents.
When you are at the homepage of the KIT application portal, at the upper righthand corner there is a globe icon. Make sure that you change the language to English if needed. Once you start the application you can save and log back in to it at any time, you do not need to finish it all in one time. When your application is completely finished then you can submit by the application deadline.
Application deadline at Carl Benz School is April 30 each year!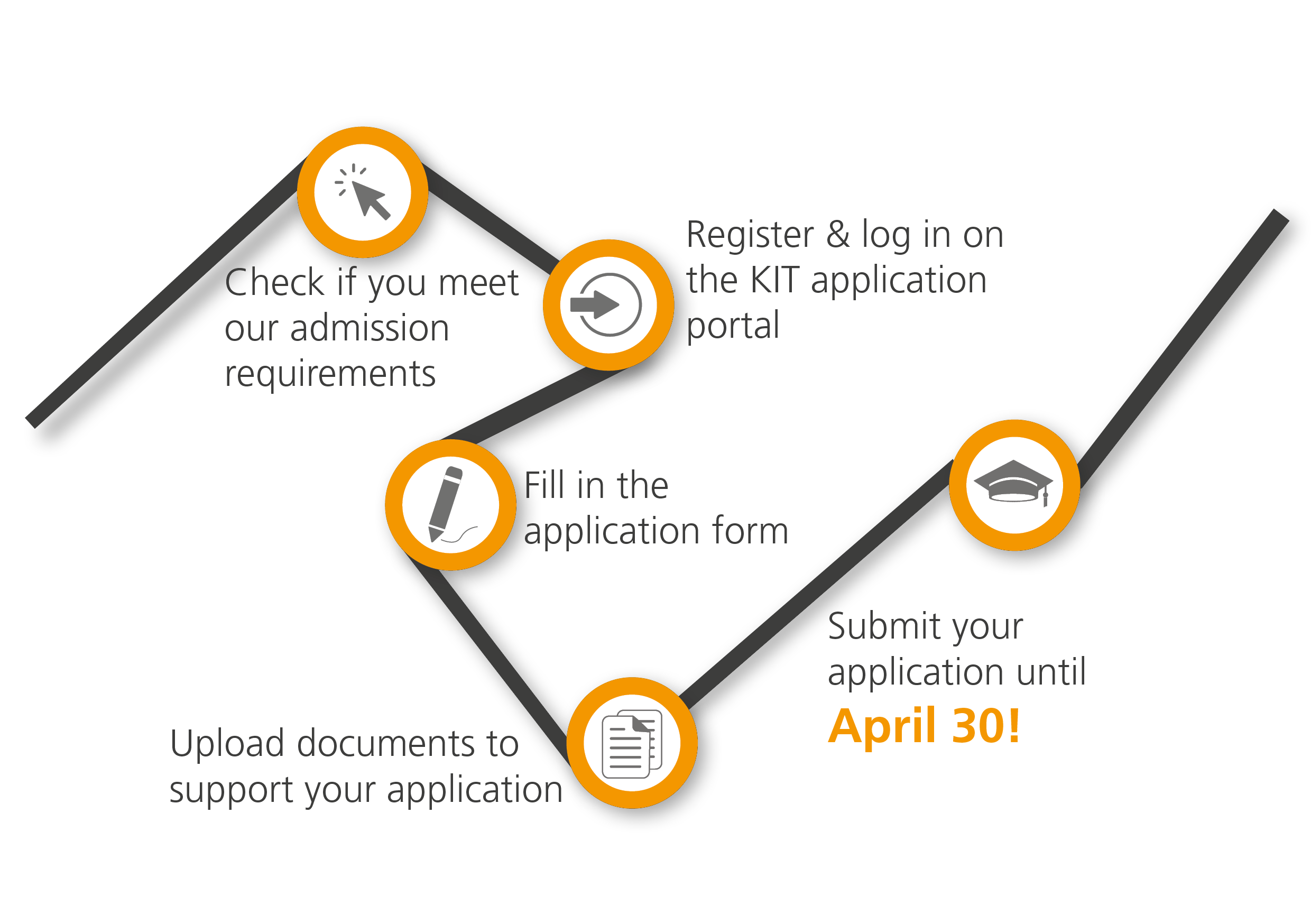 What if my High School Degree is not recognized?
Depending on your secondary school leaving certificate you will either get a direct or an indirect university admission. If your degree certificate is not recognized, you are then given an indirect admission. This means that you will need to participate in our Pre-Semester. The Pre-Semester (Start: August) is an eight-week preparatory course in Mathematics, Physics, Chemistry as well as English.
To find out if your High School degree is recognized in Germany, please visit the DAAD database on admission requirements. You can find more information in our admission FAQs.
Important information for German citizens with a foreign school-leaving qualification!
Did you attend a school abroad and obtain a school-leaving qualification there? Or did you study at an International School in Germany?
In this case, you need to get your transcript evaluated as equivalent to a school-leaving certificate in the state of Baden-Württemberg. The approved document is required for the winter semester enrollment at the Carl Benz School of Engineering/KIT. Please contact the Regional Council, the so-called "Regierungspräsidium", in Stuttgart for further information here.
Do you have any more questions about the process? Download our admission FAQs or contact us under the following mail address: admissions∂carlbenzschool.kit.edu.
For the official document on study and examination regulations of the B.Sc. Mechanical Engineering (International) click here.
For the official document on admissions regulations of the B.Sc. Mechanical Engineering (International) click here.