B.Sc. Mechanical Engineering (International)
The Carl Benz School of Engineering offers high school graduates the unique opportunity to study internationally renowned German engineering in English. The 3-year bachelor's program aims to prepare future engineers for a successful career.
The Karlsruhe Institute of Technology (KIT) is ranked #1 in employability amongst all German universities and achieves numerous top placements in the field of engineering every year (see KIT Rankings). As the Mechanical Engineering College of the KIT, the Carl Benz School of Engineering offers high-quality lectures by excellent professors of the KIT. All students receive an individualized all-in-one service package, support, additional training and study guidance in order to develop their professional profile.
Basic criteria for admission include excellent grades in mathematics and physics. Furthermore, applicants must be proficient in the English language. Recommended High School degrees are an International Baccalaureate, A-Level or Abitur.

What is the Bachelor's Degree all about?
The Bachelor of Science (B.Sc.) program in Mechanical Engineering (International) at Carl Benz School is completed over a duration of 3 years (6 semesters). The program begins with a so-called Pre-Semester, a preparatory course in Mathematics, Physics, Chemistry, and English. After two years of intermediate studies, which cover the basic concepts of mechanical engineering, the students can choose to specialize in either Automotive Engineering, Energy Engineering or Global Production Management. Carl Benz School students will graduate with a Bachelor of Science degree from KIT. The Bachelor program comprises lectures, tutorials, and lab courses with lecturers and tutors coming from different institutes of the KIT. This ensures that the quality of the subjects taught to meet the highest standards.
In addition to the academic demands, students are also encouraged to complete an industrial internship. The hands-on industry training program Smart Factory∂Industry is new and unique worldwide. The traineeship will foster the career perspectives of our students our German industry partners and provide them with an industry network including potential employers at a very early stage of their academic career. The program is rounded off by supplementary studies, such as language courses, cultural studies, soft skills courses and social events.
Key Facts about the B.Sc. Mechanical Engineering (International) program
Degree: Bachelor of Science in Mechanical Engineering (International)
Working language: English
Start of studies: October each year
Study load: 180 ECTS
Form: Full time - on campus
Application from December - April 30th each year
Program Structure
Find out more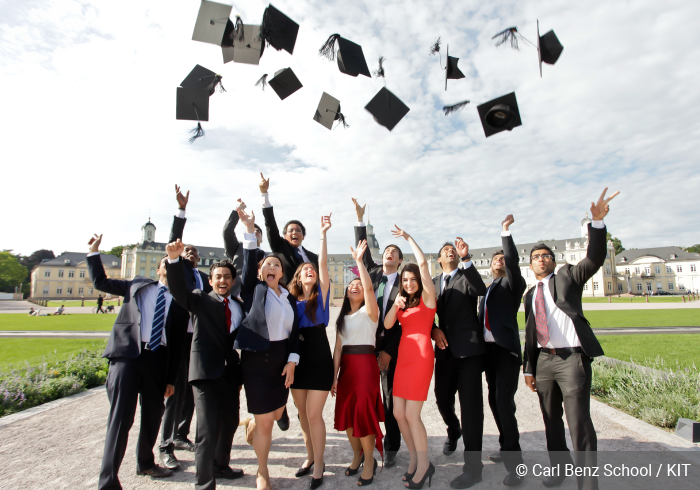 Join us in CBS College Program!
The CBS College Program was developed over the past 20 years to provide international students the tools, skills, and experiences they need to achieve academic and professional success.
To ensure your participation in the exclusive College Program, please follow the steps on the College Program Application Portal. You can apply for the College Program at any time. Please note that participation in the College Program is only possible, if you have received admissions for B.Sc. in Mechanical Engineering (International) from KIT.
Save your exclusive spot!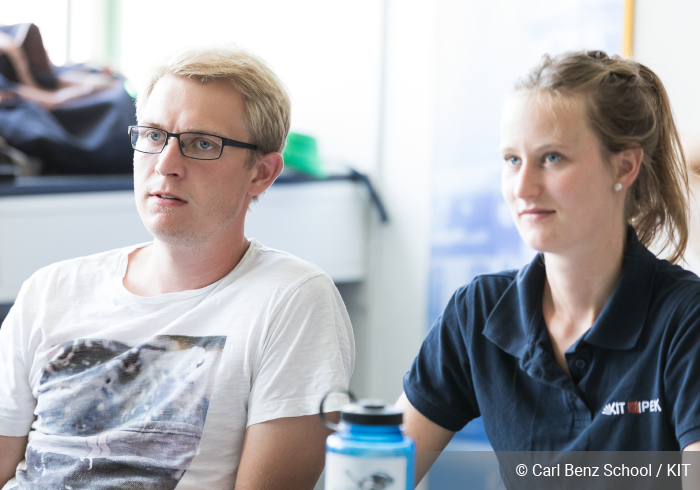 Why the College Program is the right choice
The CBS College Program is a core part of the student experience at CBS. See how we can shape your student experience with our helpful services included in the CBS College Program.
Why the College Program is the right choice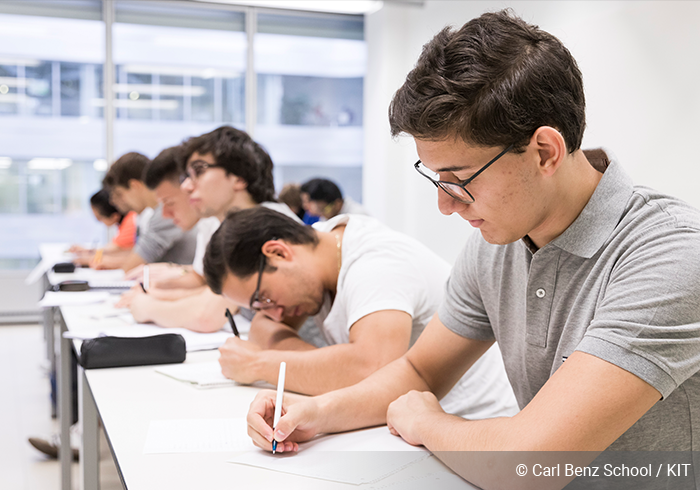 Admission Requirements
You are interested in studying B.Sc. Mechanical Engineering (International) at Carl Benz School in Karlsruhe, Germany? Here you find information on the requirements and the admission process.
View our admission requirements