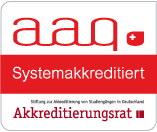 Since May 2014, the KIT is system-accredited by AAQ, the Swiss Agency of Accreditation and Quality Assurance

. This agency is under the authority of the Swiss Accreditation Council and carries out accreditation procedures in higher education institutions in Switzerland, Germany and Austria.
With the system accreditation procedure, AAQ evaluates the internal quality assurance systems of higher education institutions. As the KIT was successfully system-accredited, it is now permitted to accredit its study programs via its approved internal QAS.
The B.Sc. Mechanical Engineering (International) offered in cooperation with Carl Benz School of Engineering has successfully passed this internal quality assurance procedure in February 2017 and is accredited by the KIT since then.
KIT Accreditation Document