SmartCoop@KIT
This exclusive training program is offered in cooperation with the institutes of the KIT Department of Mechanical Engineering
About the Program
Our exclusive training program is offered in cooperation with the institutes of the KIT Department of Mechanical Engineering, whose innovation-driven research interlinks projects with industry partners. Participants will be given the opportunity to become involved in one of these industry projects, joining via a 3-month student assistant position for applied research projects. College Program participants will gain qualifications in the fundamentals of industry-related research – oriented project work for their future professional careers.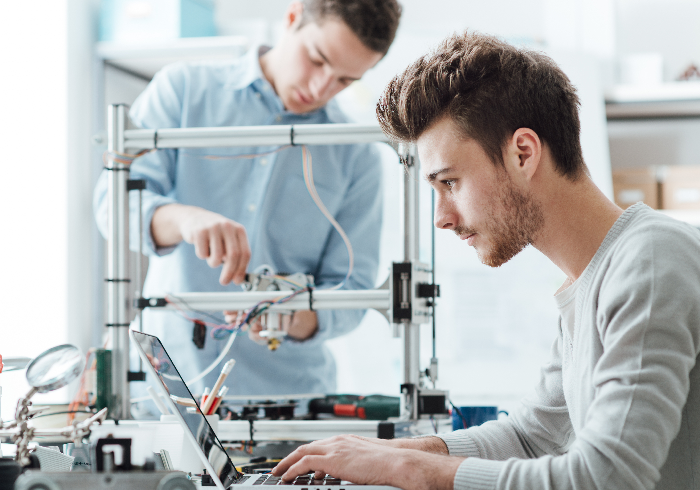 Immersion in a project oriented work environment is very common for engineers. Students looking to participate are required to possess intermediate to advanced technical knowledge and organizational skills, along with strong team-player attributes.
Who can participate?
The SmartCoop@KIT program is available to all creative, innovative College Program participants in their 3rd – 5th semesters in solid academic standing.
Experience
Abdelrahman, Intake 2019
Take a look at the experience that Abdelrahman shares about his participation in a SmartCoop@KIT project.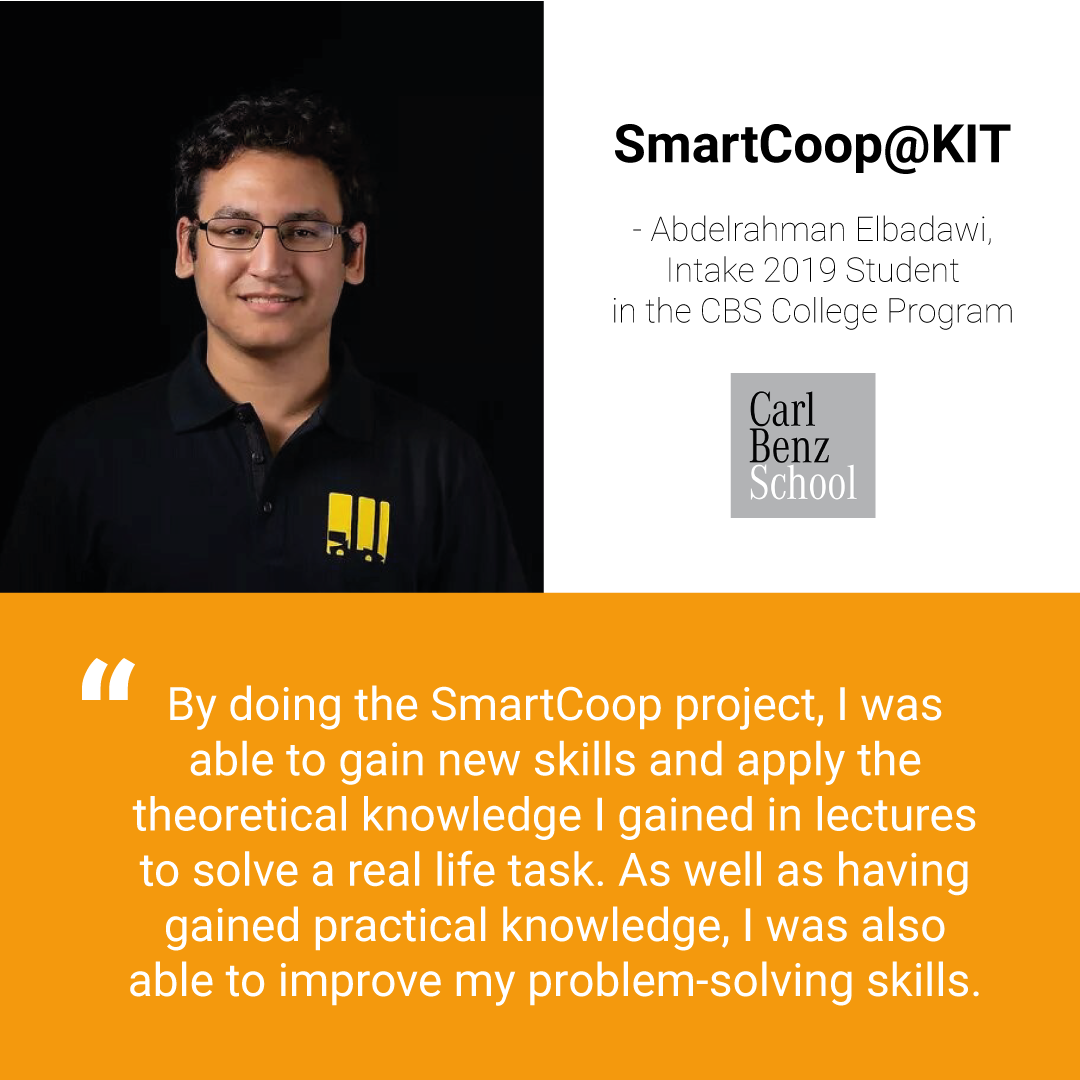 How to apply for SmartCoop@KIT
Please fill out the form below to apply to SmartCoop@KIT and send your CV, Motivation Letter and Grade Sheet via email to: StudentOffice∂carlbenzschool.kit.edu in order to complete your application.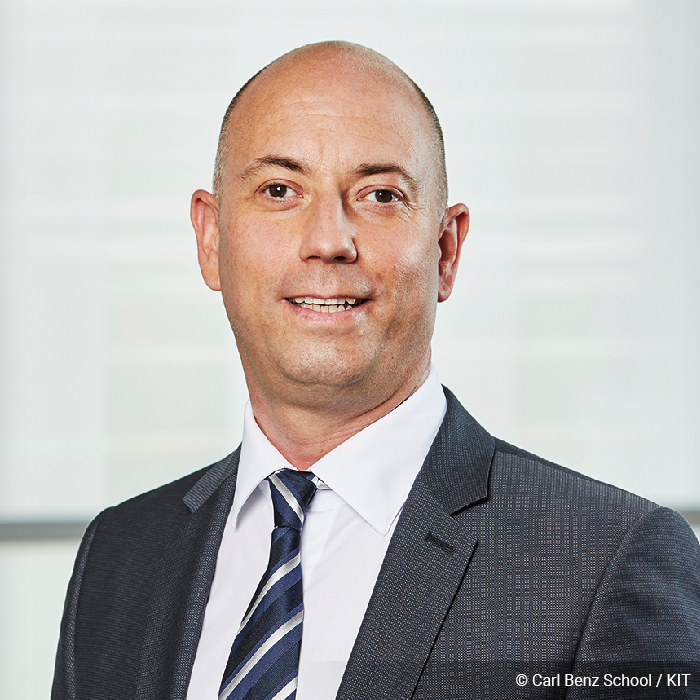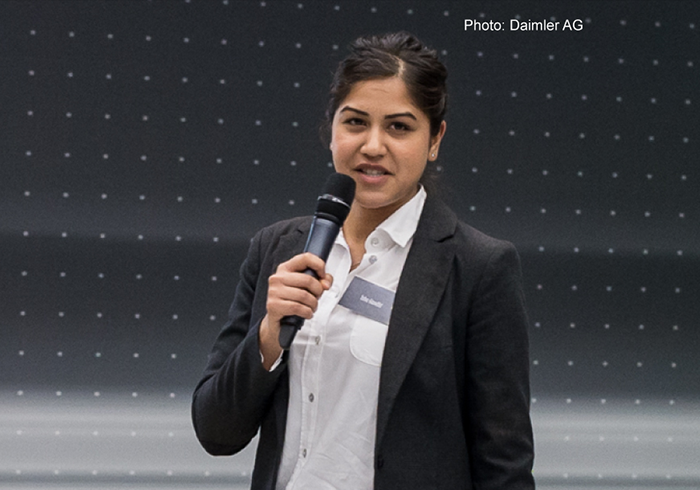 SmartFactory@Industry Program
SmartFactory@Industry is a hands-on industry training, which, together with our industry partners like Daimler or Bosch aims to enhance the practical as well as theoretical knowledge of Carl Benz School students in the field of Industry 4.0.
Our hands-on industry program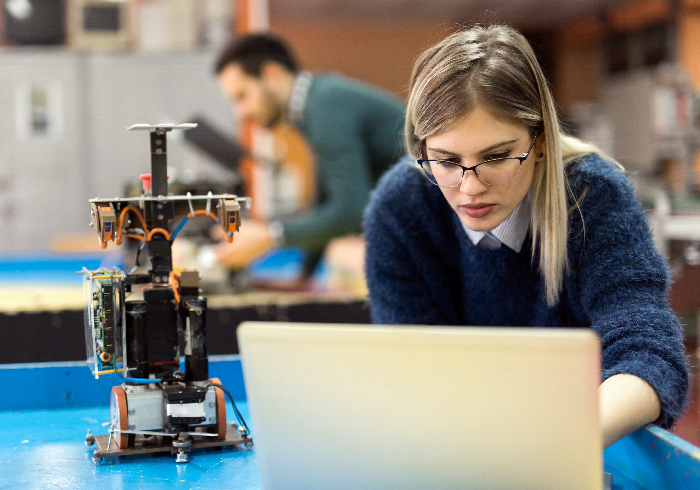 SmartScience@KIT
The research-oriented 3-month-project offers selected participants of the College Program the chance to gain first-hand experience in exploring fundamental engineering-scientific research questions within the status of a student assistant position.
More about SmartScience@KIT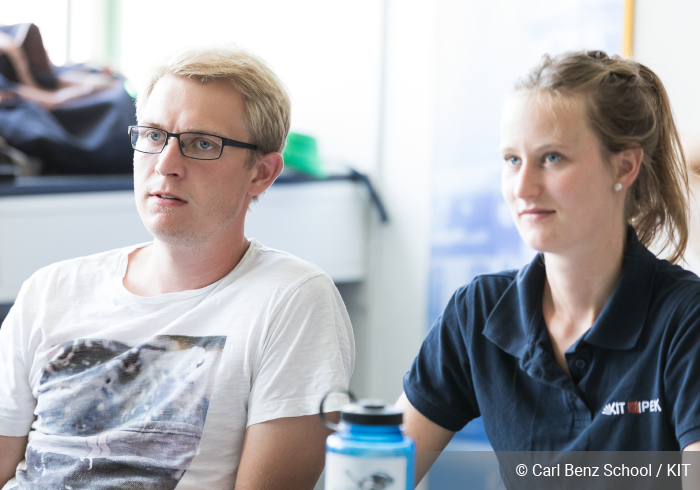 Why the College Program is the right choice
The CBS College Program is a core part of the student experience at Carl Benz School of Engineering. See how we can shape your student experience with our helpful services included in the CBS College Program.
Our CBS College Program