What is the Pre-Semester?
The CBS Pre-Semester is an eight-week course taking place in August and September in order to prepare students in Mathematics, Physics, Chemistry and English before the start of their studies.
The course aims to provide you with the knowledge to successfully start your studies in Mechanical Engineering (International). In addition, the various excursions, team building events and social events ensure that you settle in well in Germany and are in contact with your fellow students right from the start.
The Pre-Semester is mandatory for everyone who is not qualified for direct admission to reach the level required to meet the higher education entrance qualification in Germany. At the end of Pre-Semester, candidates who have not been admitted directly must pass the assessment of eligibility (entrance examination) in order to gain enrollment in the B.Sc. Program in Mechanical Engineering (International).
We highly recommend everyone that has been given direct admission to take part in the Pre-Semester since it covers essential topics for studying Mechanical Engineering.
Why you should take part in the Pre-Semester
To refresh your knowledge in Physics, Mathematics, and Chemistry
To attain the level of proficiency in Academic English required for Mechanical Engineering studies
To get to know the academic standards and demands of a German university
To settle in Karlsruhe before the semester start
To explore the region around Karlsruhe through the various excursions that are offered
To get to know your future fellow students through e.g. team building and social events
Find more information about direct and indirect admission in our FAQs!
Pre-Semester 2023
Move-In Days: July 31st & August 1st, 2023
Start of Lectures: August 2nd, 2023
End of Lectures: September 8th, 2023
Dates Entrance Exams: to be announced
Location: Karlsruhe Institute of Technology, International Department (ID) Campus
Costs: 5.250 EUR (regular price) | 4.700 EUR (Early Bird payment must be received by June 30th, 2023)
The costs include:
lectures
extra tutorials
teaching materials
exam fees
events & excursions
acccommodation on the ID campus or in the KIT Guest House (depending on availability).
In the case that there are no vacancies at the ID or the KIT Guest House, hotel accommodation will be offered and an additional fee will be charged. Please get in touch with us as soon as possible.
Excursions: During the Pre-Semester we will organize several exciting excursions for you. For example, you will be building your own raft from scratch in cooperation with your fellow students as well as go tree climbing. We will also visit the world famous Mercedes Benz Museum in Stuttgart. On top of this, we will take you to the exciting high ropes activity and enjoy the beautiful outdoor activities we have planned for you. Our student association is also involved in the Pre-Semester and will organize a scavenger hunt around the KIT campus so that you get to know all the relevant locations on campus.
Important information: Please start the visa application process as soon as you have received the letter of admission.
Please note that the dates might be subject to change.
>> Take a look at our academic calendar for 2023/2024 here.
Impressions from the 2021 Pre-Semester Class
Some of our students of the 2021 batch shared their experience during the Pre-Semester with us.
Check below to watch the video on YouTube: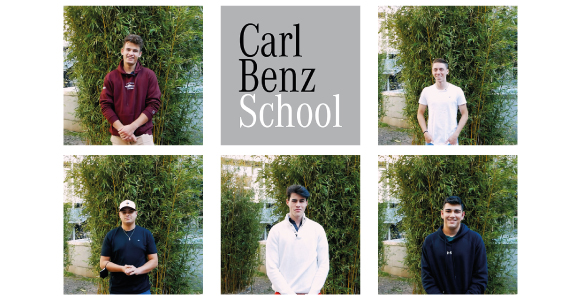 Our preparatory courses
Read more on our preparatory courses in Mathematics, Physics, Chemistry and English.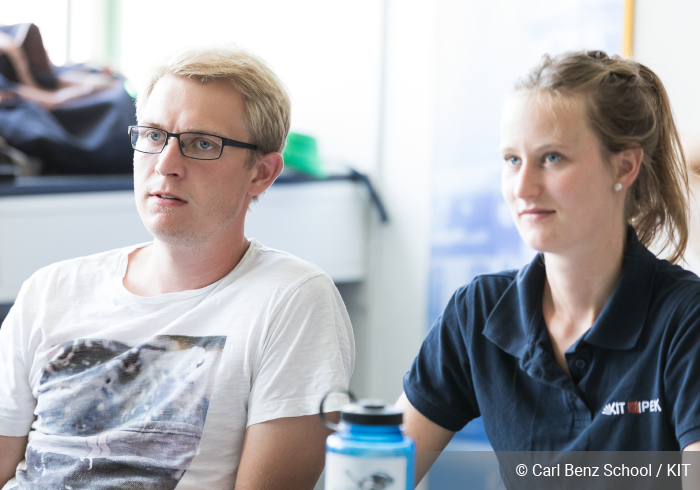 Our College Program
The CBS College Program is a core part of the student experience at Carl Benz School of Engineering. See how we can shape your student experience with our services included in our College Program.
Why the College Program is the right choice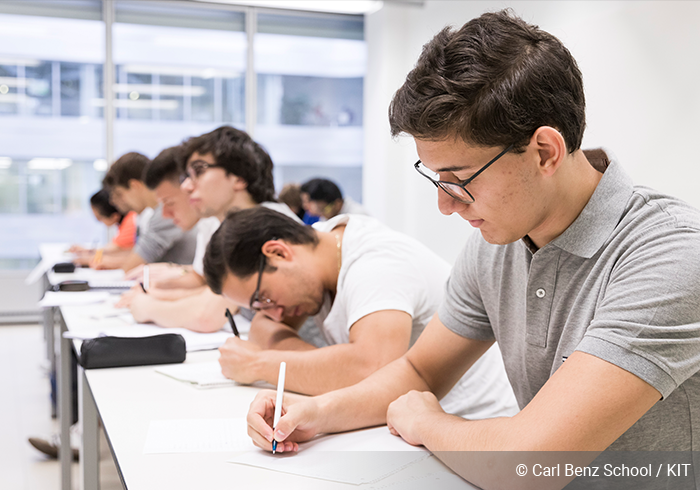 Admission Requirements
You are interested in studying B.Sc. Mechanical Engineering (International) at Carl Benz School in Karlsruhe? Here you find all information on the admission requirements and the admission process.
View our Admission Requirements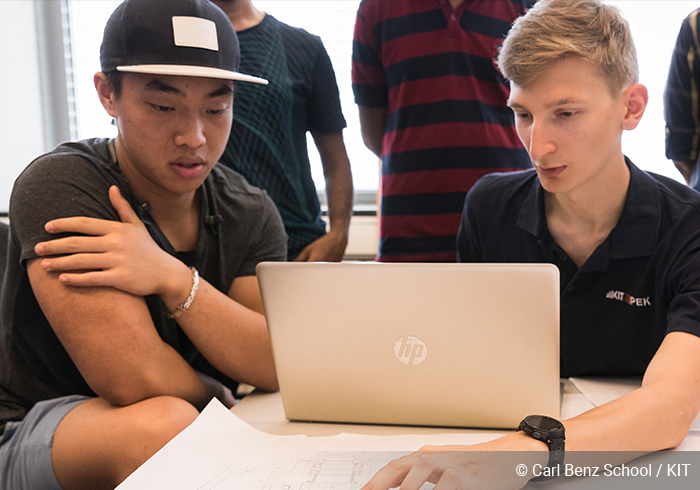 Costs and Fees
Carl Benz School offers more than just university education. It offers a safe and supportive environment to support the students throughout their studies. Learn more about our Costs and Fees.
Take a look at our costs and fees