SmartScience@KIT
The research-oriented 3-month-project offers select participants of the College Program the opportunity to gain first-hand experience in exploring fundamental engineering-scientific research questions through a student assistant position.
About the Program
Visionary thinking, curiosity and persistence are all qualities that unite Carl Benz as an outstanding inventor and Albert Einstein as a pioneering researcher. If you share these attributes and are seeking to challenge your abilities in critical and abstract thinking, then Smart Science is the ideal opportunity for you!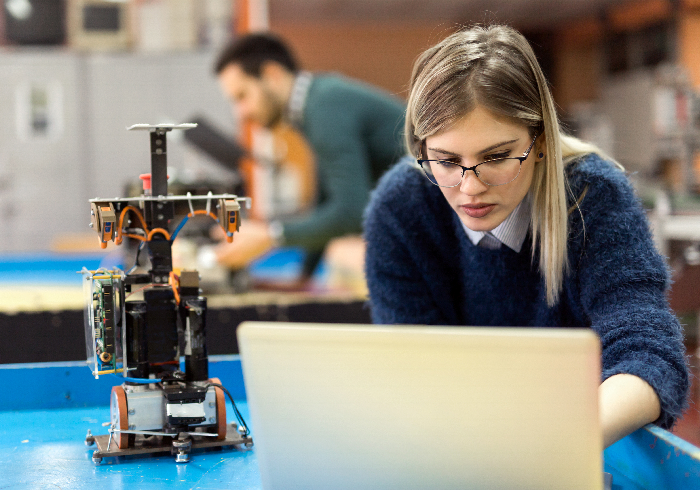 The research-oriented 3-month-project offers selected participants of the CBS College Program the opportunity to gain first-hand experience in exploring fundamental engineering-scientific research questions through a student assistant position. We will refer you to faculty members of the Mechanical Engineering Department at KIT, who will identify research topics with you. At the same time, you gather first impressions of academic career options at KIT. Smart Science is especially interesting for MEI students who would like to work on industrial research projects or wish to pursue a Master or doctoral degree.
CBS will accompany the projects for the full length of their duration via regular coaching sessions to ensure a successful completion of tasks. Project results are to be drafted in form of an Executive Summary (poster/experiment/talk/short-video) using an intelligent and comprehensible approach. In addition, they can be presented as part of a regular MEI lecture, thus allowing students the opportunity to gain their first experience in teaching. The research opportunities will prepare participants to develop smart scientific methodologies and problem-solving skills to succeed in academia and the workplace.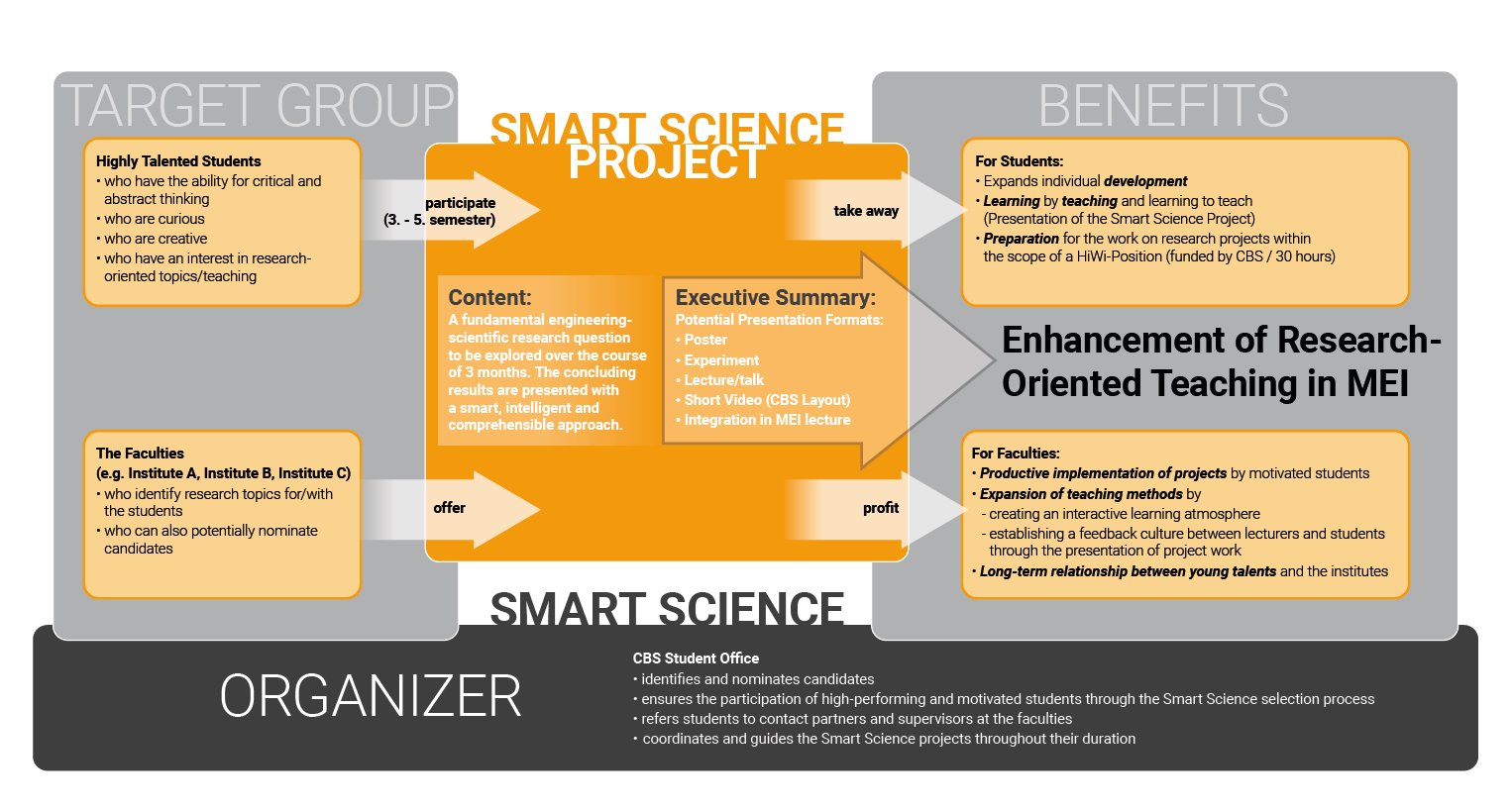 Experience
Shreyas, Intake 2018
Take a look at the experience that Shreyas shares about his participation in a SmartScience@KIT project.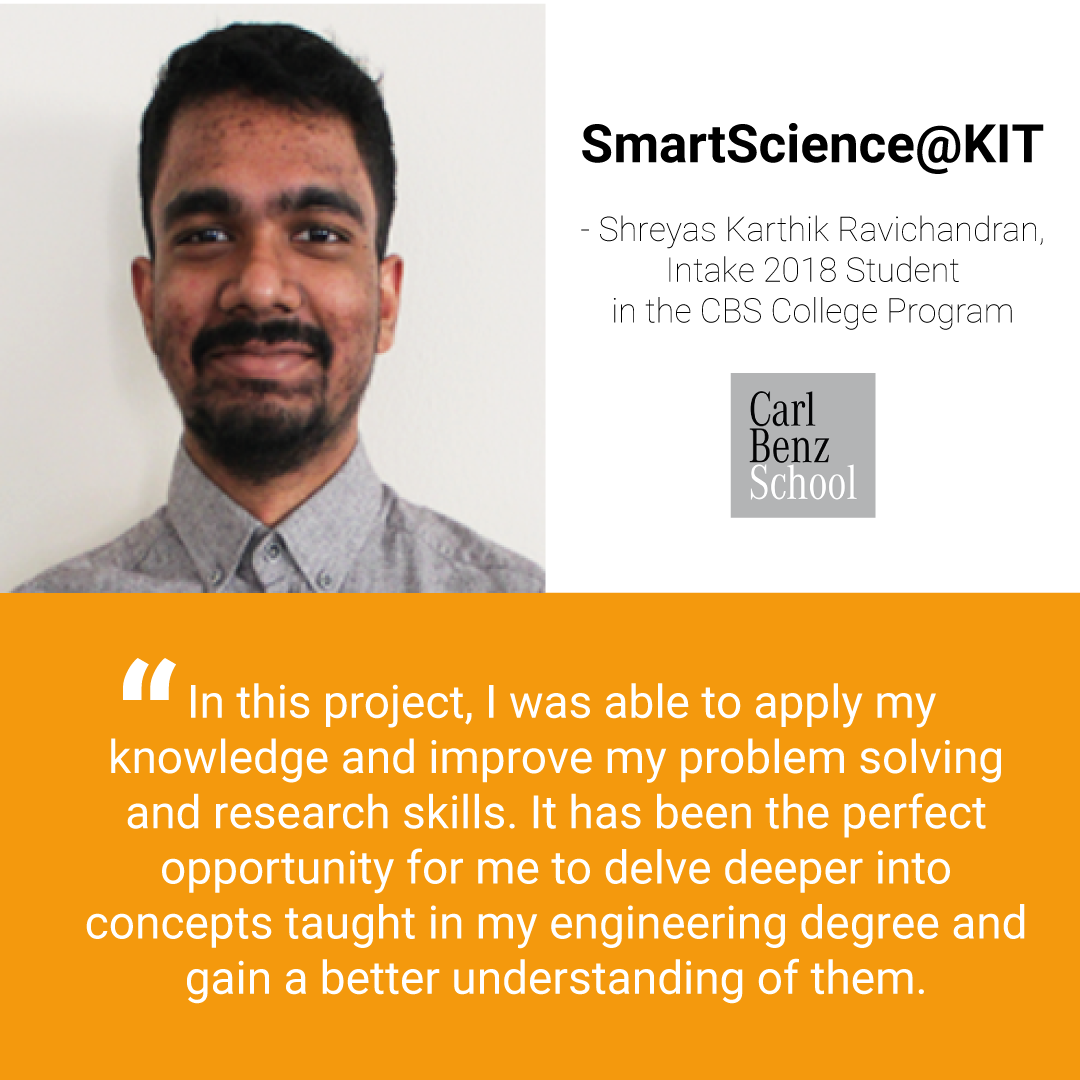 Facts about SmartScience@KIT
The Smart Science project is…
looking for creative students in their 3rd to 5th semester who have an interest in research-oriented lecture contents
funded by CBS via a student research position
suitable for students in a solid academic standing
run in parallel to the regular curriculum
managed through regular updates from the institutes, students and CBS
finally filmed and cut into a 3 to 4 minutes short-video and presented in a PPT format with a template provided by CBS
accredited with a final certificate detailing the student´s extracurricular commitment
open to selected participants of the CBS College Program (legal action excluded)
Benefits for our students
The participants will gain...
personal development opportunities through a supervised program
presentation skills
experiences in learning by teaching and learning to teach
research-oriented teaching in MEI
long-term career opportunities for young research talents at KIT
the opportunity to continue the research topic as Bachelor thesis
problem-solving skills and the development of smart scientific methodologies
engagement in creating new knowledge through research
intercultural work experience in a boundary-crossing research environment
How to apply for SmartScience@KIT
Please note that the application period for the 2021 projects has ended on April 6th, 2021.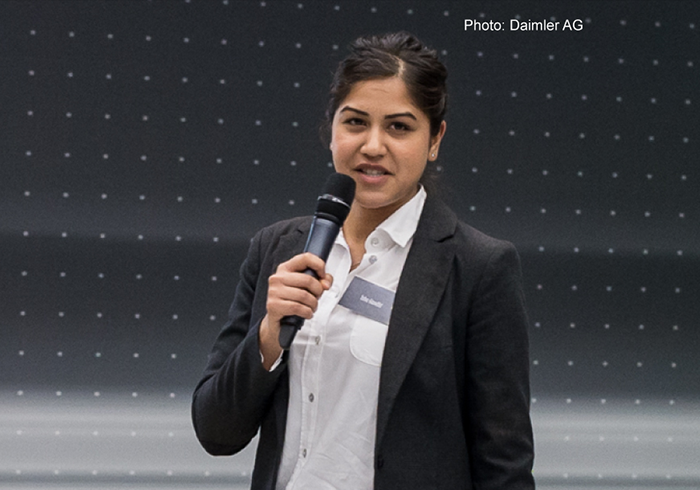 SmartFactory@Industry Program
SmartFactory@Industry is a hands-on industry training, which, together with our industry partners like Daimler or Bosch aims to enhance the practical as well as theoretical knowledge of Carl Benz School students in the field of Industry 4.0.
Our hands-on industry program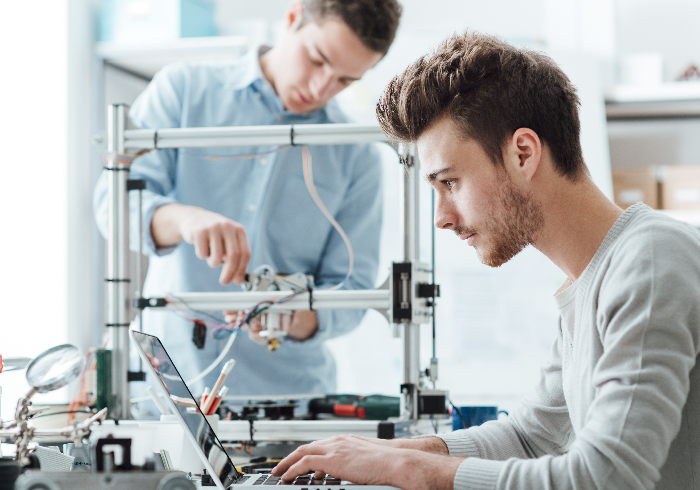 SmartCoop@KIT
Our exclusive SmartCoop@KIT training program is offered in cooperation with the institutes of the KIT's Department of Mechanical Engineering, whose innovation-driven research interlinks joint projects with industry partners.
More about SmartCoop@KIT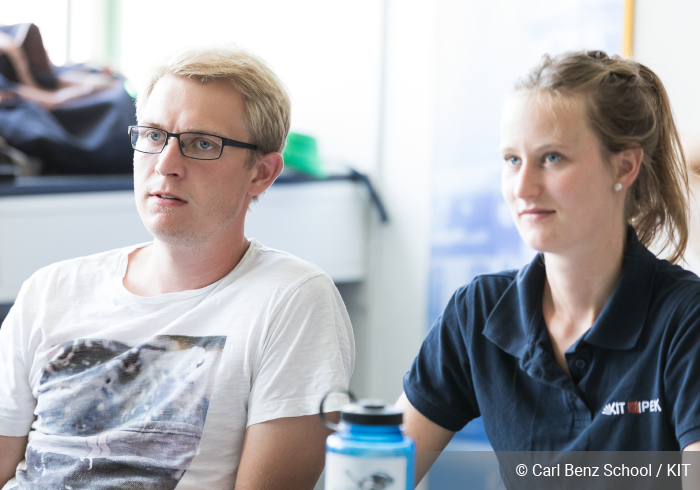 Our College Program
The CBS College Program is a core part of the student experience at Carl Benz School of Engineering. See how we can shape your student experience with our services included in our College Program.
Why the College Program is the right choice