Costs & Fees
The Carl Benz School of Engineering provides a college structure within the Karlsruhe Institute of Technology (KIT), which is why the specific College Program fee of 7,000 EUR per semester applies in addition to the university enrollment and tuition fees. The College Program fee covers support in academic learning and additional services provided by the Carl Benz School.

Carl Benz School offers more than just university education. It offers a safe and supportive environment to support the students throughout their studies. Within the CBS College Campus, students have the possibility to live in on-campus housing, take classes in our lecture rooms, and spend time studying in our library. In addition, we offer a wide range of individualized study and career guidance. CBS provides an excellent learning environment and aims to assist the students in their personal and academic development. CBS Students receive College Tutoring that consists of small class sizes, which is often regarded as one of the best teaching methods available.
CBS College Program Fees*
KIT Enrollment Fees**
Overall Semester Fees***
EU Student

7,000 EUR

(Seven thousand euros)

155 EUR

(One hundred and fifty-five euros)

7,155 EUR

(Seven thousand, one hundred and fifty-five euros)

Non-EU Student

7,000 EUR

(Seven thousand euros)

1,655 EUR

(One thousand, six hundred and fifty-five euros)

8,655 EUR

(Eight thousand, six hundred and fifty-five euros)
*The CBS College Program fees includes lecture notes, past papers, German and English language courses, additional course program (soft skills, intercultural training, etc.), specific tutoring, study guidance, workshops, support with internship applications. It does not include costs for accommodation, meals nor traveling.
** Please also click here for more information on KIT Enrollment Fees!
*** Please note: One year consists of two semesters.
For further information about fees and prices please contact us.
Housing and Accommodation
The Carl Benz School offers exclusive campus accommodation (single and twin rooms) in its own campus dormitory.
Find more information on prices and booking here.
General Living Expenses
The estimated general living expenses per month for a single student are as follows:
Public Transportation: approx. 34 EUR / Month
Food: approx. 167 EUR / Month
Pocket Money: approx. 150 EUR / Month
Compulsory German Health Insurance: approx. 34 EUR / Month
Other possible expenses:
The costs of travelling to and from Germany should also be taken into consideration.
Find more information about the living costs in Karlsruhe here.
Scholarships
Carl Benz School is currently not offering any scholarships.
Please take a look at official scholarship funds such as:
COVID-19 Update
Students that have been hit financially by the current COVID-19 crisis may also apply for an interest-free loan (Studienkredit) hosted by the KfW (Kreditanstalt für Wiederaufbau). A loan of up to 650€ per month is available for both domestic and international students; with the duration of financial support being determined on an individual basis.
The application for international students is only possible within the period from May 16th, 2020 – February 15th, 2021! The funding period begins at the earliest on July 1st, 2020 and at the latest on March 1st, 2021. If funding has not started by March 2021 at the latest, no further funding will be possible. Because of this, the application must be received in full by the KfW on February 15th, 2021 at the latest.
Further information can be found here in German and partially in English here.
The toll-free service number (0800-539-9003, Monday – Friday: 8 am – 6 pm) will be able to provide you assistance in English. Initially, the call begins with an automated response, after which you have to enter "eins" (one) by pressing the telephone-button "1" or by language, afterwards you will be connected with a representative.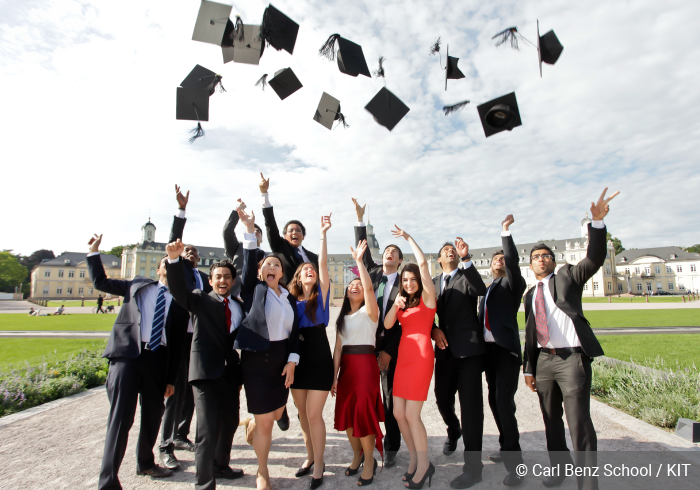 Save your College Program spot for 2022!
The CBS College Program was developed over the past 20 years to provide international students the tools, skills, and experiences they need to achieve academic and professional success. Did you apply to the B.Sc. program in Mechanical Engineering (International) for the 2022/2023 winter semester? Register now for the CBS College Program to ensure your exclusive participation. Follow the steps on the College Program Application Portal. Please note that participation in the College Program is only possible, if you have received admissions for B.Sc. in Mechanical Engineering (International) from the KIT.
Save your exclusive spot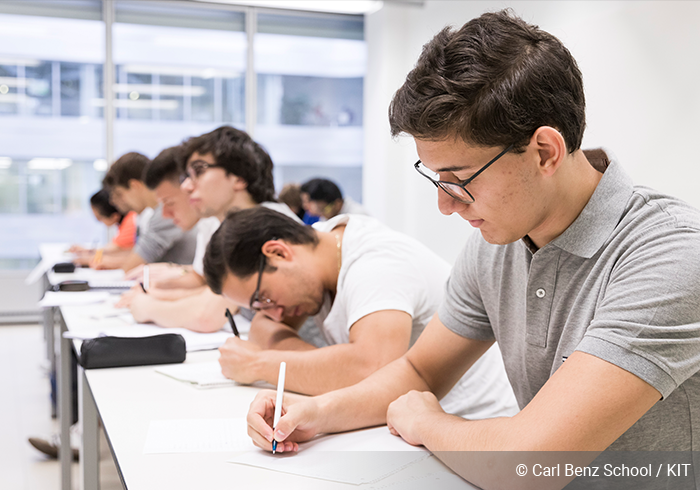 Admission Requirements
You are interested in studying B.Sc. Mechanical Engineering (International) at Carl Benz School in Karlsruhe, Germany? Here you find all relevant information on the admission requirements and the admission process.
View our Admission Requirements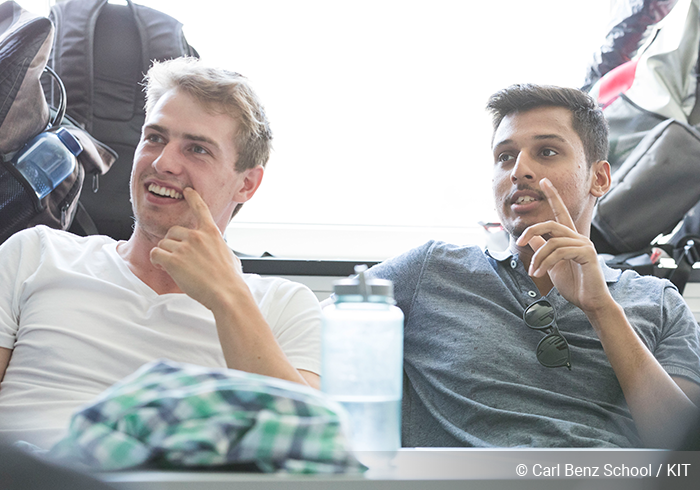 Frequently Asked Questions
Our FAQ section refers to possible questions of interested applicants who are planning to apply and also addresses applicants who already have received a letter of admission from Carl Benz School of Engineering.
View our FAQs