Frequently asked questions
Our FAQ might help you with your questions regarding our admission requirements, the application process or the studies at the Carl Benz School.
Choosing the right study program and applying to your favorite university can sometimes be difficult at the first glance. But don't worry! We have collected our frequently most asked questions here for you.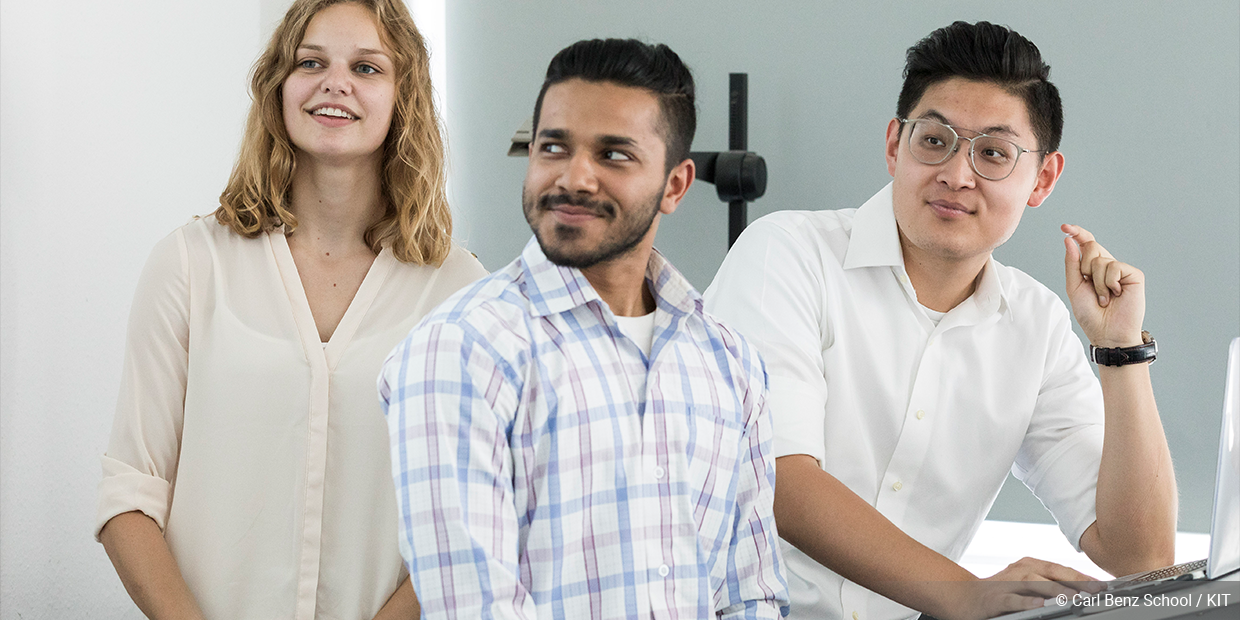 How do I get to Karlsruhe and Carl Benz School?
If you are landing in Frankfurt International Airport, there are high-speed trains that bring you to the Karlsruhe Main Train Station (Hauptbahnhof).
From the Karlsruhe Main Train Station, you can take one of the following trams:
- Tram S1/ S11 (heading for Hochstetten or Neureut)
- Tram 4 (heading for Waldstadt)
When you arrive at the tram stop Herrenstraße, it is less than a 5-minute walk to the Carl Benz School.
Please be sure to contact the Carl Benz School in advance to confirm your date and time of arrival by filling in the "Arrival Confirmation" form (included in your admission package).
How accessible is Karlsruhe and Carl Benz School?
Karlsruhe is located in the state of Baden-Württemberg in south Germany and is a university city with a student population of more than 43,000.
The comprehensive tram and train network in Karlsruhe is a busy one, making it very convenient to travel to different parts of Germany and Europe. There are direct high-speed trains that connect the main train station to the Frankfurt International Airport.
Several tram lines link the Karlsruhe Main Train Station to the Herrenstraße tram stop, which is the tram stop closest to Carl Benz School.
Carl Benz School itself is a 5-minute walk from Kaiserstraße, the main shopping street in Karlsruhe. This means a very central location, where university facilities, institutes, laboratories, libraries and offices are easily accessible on foot or by bicycle.
In addition, many shops and supermarkets are only a few steps away, making shopping relative hassle-free.
The magnificent Schloss (Palace) and huge Schlosspark (Palace Garden) are also right next to the Carl Benz School where our students have the possibility to engage in sports or just enjoy leisurely strolls.
>> Find more information on the city of Karlsruhe here.
What are the accommodations and facilities like at Carl Benz School?
CBS College Program participants can live directly on our secure campus with their fellow classmates.
The Carl Benz School is housed in a 3-storey historical building which has been modernized. We offer 120 single / double rooms, equipped with a private bathroom, telephone and internet connection.
A study chair, table, bed and cupboard are provided. 4-6 students share the general living quarters comprising of a kitchen, dining area and a study/social area. Our students have also easy access to the self-service laundry automat.
Our administration is located in the same building, meaning that students do not have to travel far in order to contact the CBS staff if they need any assistance.
Within the building, there is also a library, an auditorium, seminar rooms, a music room, a bar/common room and a 24hr PC pool. For a bit of sports on rainy days there is a table-tennis table available in the basement.
>> Find more information on our our campus, CBS on-campus housing or Karlsruhe as a study location.
>> Watch our campus tour video to get a better impression!
How much are the general cost of living in Germany?
The estimated general living expenses per month for a single student are as follows:
Public Transportation: approx. 34 EUR / Month
Food: approx. 167 EUR / Month
Pocket Money: approx. 150 EUR / Month
Compulsory German Health Insurance: approx. 34 EUR / Month
Other possible expenses:
The costs of travelling to and from Germany should also be taken into consideration.
>> Find more information about the living costs in Karlsruhe here.
Do you offer scholarships?
The Carl Benz School of Engineering holds a college structure within the Karlsruhe Institute of Technology (KIT), which is why the specific college fee applies in addition to the university enrollment and tuition fees. The college fee covers academic learning and additional services that are provided by the Carl Benz School. Please take a detailed look at our costs and fees here.

The Carl Benz School is currently not offering any scholarships. Please take a look at official scholarship funds such as:
Further questions?
Your question is not listed here? Find our contact information below.
If you could not find your answer here, please get in touch with us. Our helpful team is happy to help and provide assistance.
You can reach us via email at info ∂does-not-exist.carlbenzschool kit edu or give us a call at +49 721 608-47693.
Contact us
Ms. Alexandra Chroscz
Operations and Admissions Manager
+49 (0) 721 608-47693
Write our team