History of Carl Benz School of Engineering
The CBS is very proud to be named after Carl Benz, the inventor of the automobile. The school aims to educate bright engineers with an innovative mind-set to follow in his footsteps, by influencing the technological developments of tomorrow.
Carl Benz was born in 1844 in Karlsruhe, Germany. Despite the limited means of his family, his mother insisted upon providing him with a good technical education. Being a diligent student, Benz passed the entrance exam to study mechanical engineering at the Karlsruhe Institute of Technology, formerly Polytechnic College. He graduated in 1864 with a degree in Mechanical Engineering. During his years at the university he had already started to envision concepts for a vehicle that would eventually become the horseless carriage.
Carl Benz looking back on his studies in Karlsruhe:

Early business misfortunes did not prevent him from developing new types of engines and from patenting key engine components. These patents, among them the patent for the first internal combustion engine, soon led to substantial revenue increases. Carl Benz's true genius became obvious thanks to his successive inventions, registered whilst designing what would become the production standard for his two-stroke engine. After years of testing and modifications, Benz created the first commercial vehicle, the Model 3, an automobile with a four-stroke engine of his own design between the rear wheels. It was gasoline-powered, the power being transmitted by means of two roller chains to the rear axle with wooden wheels. This became the first production automobile.
What followed has been the birth of the success story of one of the global key players in the automotive industry, the DAIMLER AG.
In 2007 the Mechanical Engineering College of the KIT was formally given the brand name "Carl Benz School of Engineering." In a formal celebration, Dieter Zetsche (Chairman of the Management Board of Mercedes-Benz), Jutta Benz (great-granddaughter of Carl Benz) alongside the former president of the KIT Prof. Dr. Horst Hippler officially inaugurated the new school name.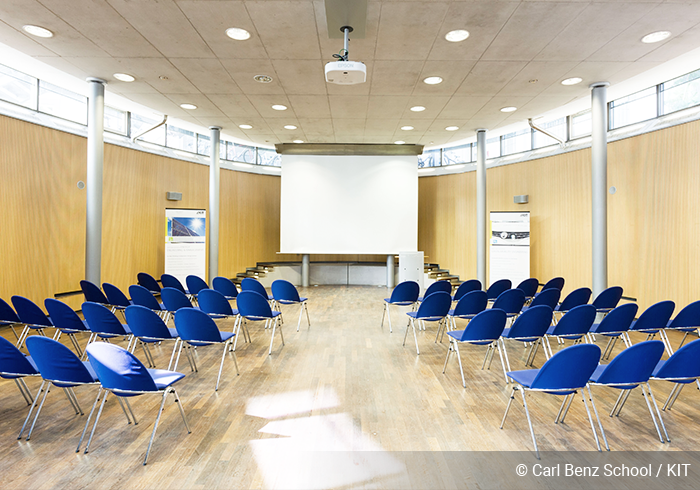 CBS Faculty and Staff
The team at Carl Benz School consists of scientists and lecturers from the Karlsruhe Institute of Technology (KIT) as well as an administrative team. Everyone at CBS works to ensure that the students receive the best education and support.
Get to know the faculty and staff!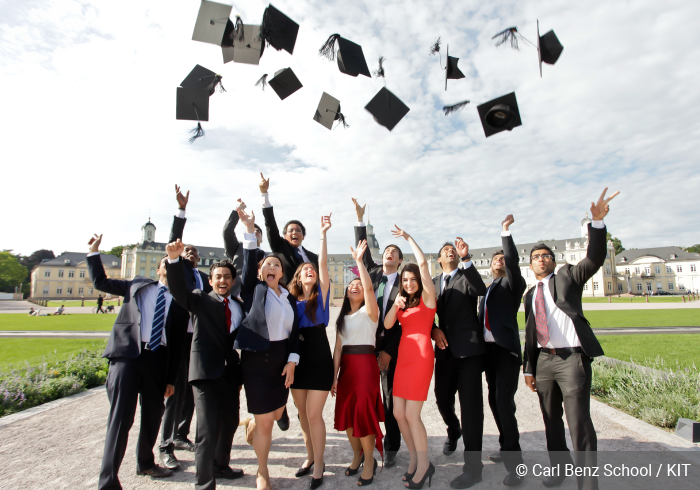 Reasons for Carl Benz School
A unique learning experience and an individualized study and career support are just some of the reasons to choose the College Program at Carl Benz School. Find out some more reasons for Carl Benz School.
View what studying at CBS contains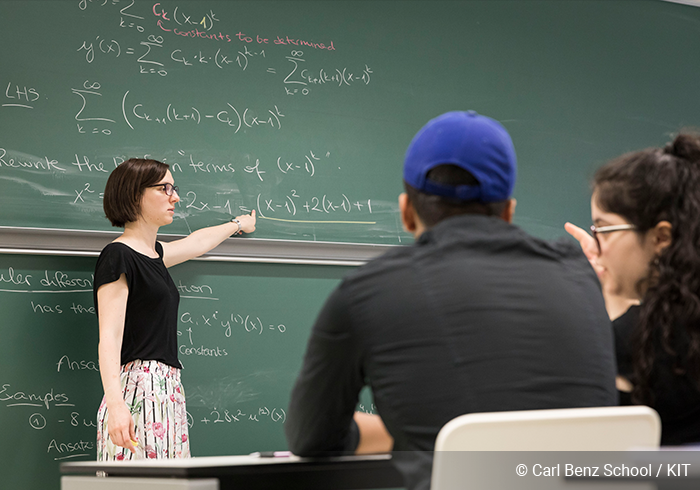 Take a look at our rankings
As the Mechanical Engineering College of the KIT, Carl Benz School offers teaching at the highest academic level. The exceptional quality of both research and teaching at KIT is repeatedly proved by different international rankings.
Read more about our rankings!