FAQ Relating to the Corona Virus
Last updated on May 19th, 2021
The Carl Benz School of Engineering is aware of the current situation and prepared to react appropriately. Even if COVID-19 persists, all programs will run as planned on site, online, or in hybrid format in accordance with local and national regulations.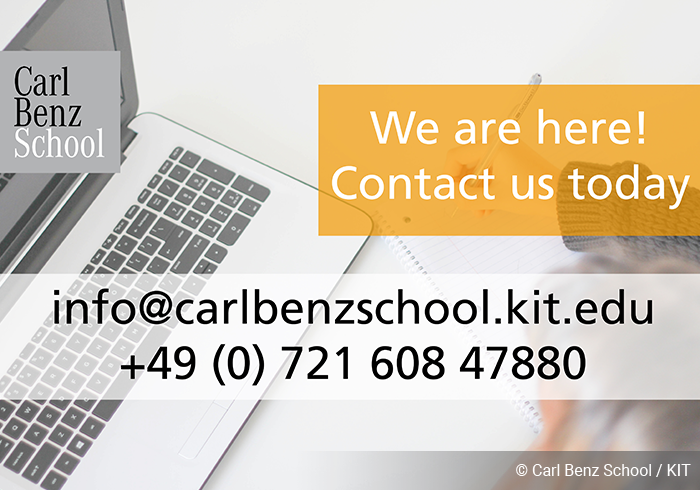 1. Who can I contact with my admissions questions?
We are still here for you!
The application period for B.Sc. in Mechanical Engineering (International) for a start in the winter semester 2021/2022 has ended on April 30th. 2021. Our Online Application Portal for a start in the winter semester 2022/2023 opens in December 2021.
To ensure your exclusive participation in the CBS College Program 2021 after applying to Mechanical Engineering (International), please follow the steps on the College Program Application Portal. The spots in our College Program are limited - so don't miss out this exclusive addition to your studies and apply today! Please note: Participation in the College Program is only possible, if you have received admissions for B.Sc. in Mechanical Engineering (International) from KIT. After your successful application for the College Program, we are going to contact you very soon after the admissions decisions from KIT have been sent out and inform you about the status of your College Program application.

If you have any questions regarding your application, you can contact our admissions team at admissions∂carlbenzschool.kit.edu or call at +49 (0)721 608-47901.
2. Are there any updates regarding the SAT?
Because of the exceptional circumstances, both due to COVID-19 pandemic and the suspension of SAT testing, applicants can apply for the B.Sc. Mechanical Engineering (International) and the CBS College Program also without SAT scores.
>> Please take a look at our admission requirements.
3. Are there any updates regarding the TOEFL?
Applicants to the B.Sc. Mechanical Engineering (International) program for the Fall 2021 semester may apply with their TOEFL Take Home Edition scores. All applications must be submitted by the April 30th application deadline.
>> Please take a look at our admission requirements.
1. What are the plans for the summer semester teaching in times of Corona?
Studies started again on April 20th, 2020, in time for the planned start of lectures in the summer semester. The summer semester in KIT started online and, depending on the how the situation develops in the semester, may switch back to a presence phase. The big advantage for you is that your study program in the summer term remains the same but you will be participating in your courses by way of the student portal ILIAS rather than by physically taking part in lectures/tutorials.
Click here for information about the study program start from the KIT.
CBS-MEI lecturers are presently preparing their electronic course offerings which we anticipate will include power point or video lecture presentations in addition to lecture notes and self-study assignments. These will be complemented by consultation hours with the lecturers and (electronic) tutorials.
It is our understanding that the current timetable as published on the CBS - Virtual Student Office remains generally valid. However, timetables may be subject to changes in detail. Such changes will be published both on ILIAS and in the CBS - Virtual Student Office.
We kindly ask you to continue to check both websites on a regular basis.
2. What is the availability of the Virtual Student Office?
The CBS Virtual Student Office will continue to be exclusively available for our College Program Participants during regular office hours (CET) using Microsoft Teams or by appointment if you need assistance outside of these times. Should you have suggestions regarding specific needs from your side, please feel free to contact us.
Find more information on our Virtual Student Office.
3. Will the German and English courses be offered online?
Language Courses in German and English will also be offered online. The group separation in Intercultural Communication and Negotiation of Dr. Altehenger-Smith will remain effective (see time table). Dr. Mann has already opened up registration for the different German as Foreign Language course levels.
We will keep you updated and will provide further information, regarding extra tutorials, workshops or maybe new formats, that will help all of you to bridge over these difficult times.
1. Is there any financial support?
Students that have been hit financially by the current COVID-19 crisis may also apply for an interest-free loan (Studienkredit) hosted by the KfW (Kreditanstalt für Wiederaufbau). A loan of up to 650€ per month is available for both domestic and international students; with the duration of financial support being determined on an individual basis.
The application for international students is only possible within the period from May 16th, 2020 – February 15th, 2021! The funding period begins at the earliest on July 1st, 2020 and at the latest on March 1st, 2021. If funding has not started by March 2021 at the latest, no further funding will be possible. Because of this, the application must be received in full by the KfW on February 15th, 2021 at the latest.
Further information can be found here in German and partially in English here.
The toll-free service number (0800-539-9003, Monday – Friday: 8 am – 6 pm) will be able to provide you assistance in English. Initially, the call begins with an automated response, after which you have to enter "eins" (one) by pressing the telephone-button "1" or by language, afterwards you will be connected with a representative.
Further information
Please not that contents are subject to change.
With concrete questions regarding the Carl Benz School that are not answered here, please contact Ms. Ariane van Elst: ariane.vanelst∂kit.edu.
For general information relating to the Corona Virus, please view the KIT FAQ information page.