FAQ Relating to the Corona Virus
Last updated on September 17th, 2021
The Carl Benz School of Engineering is aware of the current situation and prepared to react appropriately. Even if COVID-19 persists, all programs will run as planned on site, online, or in hybrid format in accordance with local and national regulations.
Please note: We would like to inform you that there are more than 10,000 appointments available for initial vaccinations in Karlsruhe. You can book an appointment either by phone at 116117 or online here. The supply of free time slots is currently very high. Please bring your health insurance card to your appointment. (as of July 2nd, 2021)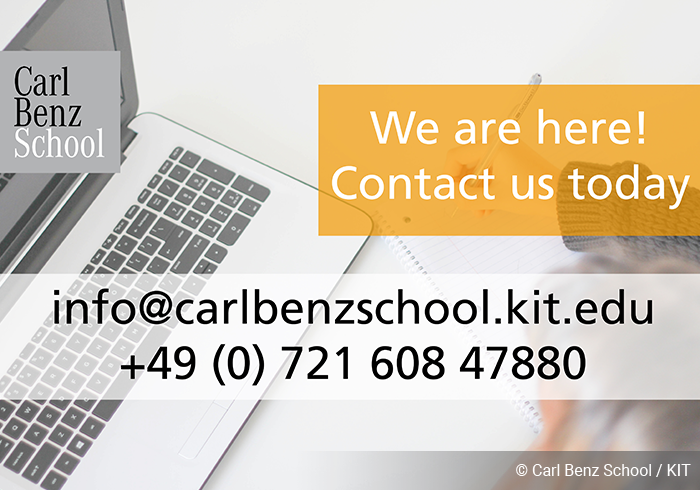 Teaching in times of Corona
1. What do I have to consider regarding studying in the winter semester of 2021/22?
Please take a look at the KIT FAQs regarding the semester and planned teaching formats. Here you can find the latest information regarding your courses.
We kindly ask you to continue to check the KIT website on a regular basis.
2. What is the availability of the Virtual Student Office?
The CBS Virtual Student Office will continue to be exclusively available for our College Program Participants during regular office hours (CEST) using Microsoft Teams or by appointment if you need assistance outside of these times. Should you have suggestions regarding specific needs from your side, please feel free to contact us.
Find more information on our Virtual Student Office.
Further information
Please note that contents are subject to change.