Welcome to the Carl Benz School of Engineering
As part of the worldwide renowned Karlsruhe Institute of Technology (KIT), the Carl Benz School offers a high quality undergraduate Bachelor program as well as Summer Schools in Mechanical Engineering in a college like structure. The international programs are taught in English and perfectly prepare students from all over the world for engineering careers. Carl Benz School College Program students furthermore benefit from individual study and career guidance as well as exclusive on-campus housing in one of the safest regions worldwide.
Application Portal opens in December
The Online Application Portal for the Bachelor of Science program in Mechanical Engineering (International) for a start in the winter semester 2023/2024 opens in December 2022. Get your application documents ready - we are looking forward to your applications between December 2022 - April 30th, 2023! The admission decisions will be sent out a few weeks after the application deadline has passed.
Read more about our program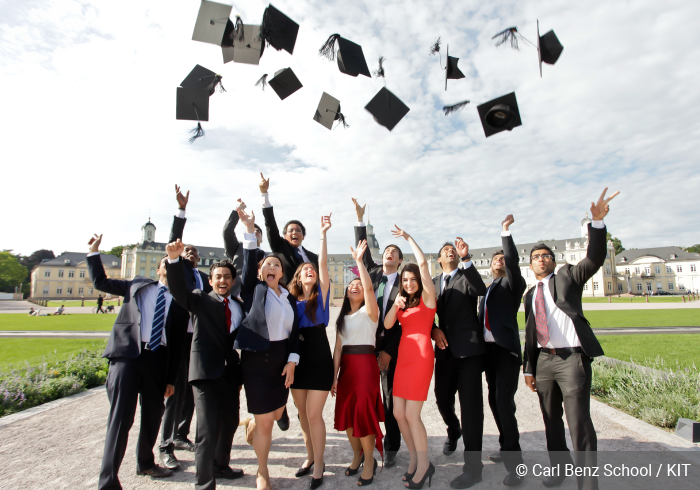 CBS College Program
The CBS College Program was developed to provide international students the tools, skills, and experiences they need to achieve academic and professional success. Register for the College Program already today to save your spot for next year. Please note that participation in the College Program is only possible, if you have received admissions for B.Sc. in Mechanical Engineering (International) from the KIT.
Get to know the College Program
Admission Requirements
Are you interested in applying to the Carl Benz School of Engineering? Take a look at our admission requirements for the B.Sc. in Mechanical Engineering (International) and make sure to have everything ready when the application portal opens. For your application, you need to provide: a High School Degree, SAT Test with at least 1.200 points, excellent grades in Math and Physics, English Language Proficiency and a Motivation Letter.
View our requirements
Your Road to CBS
Join our upcoming series of online info sessions during the application phase to find out more about the Carl Benz School of Engineering's College Program, on-campus accommodation and the student life at CBS. Learn everything about the application process and admission requirements. Our helpful CBS Team is available for a live Q&A after each session to help you prepare on your road to CBS.
Join our online info sessions!
Campus Tours
Visit our CBS Campus here in Karlsruhe! In the center of Karlsruhe, the Carl Benz School offers modern educational spaces as well as high standard accommodation. Come and visit us to get a real impression of the Campus of the Mechanical Engineering College of the KIT. Our CBS Program Consultants will personally show you and your family through our facilities, the KIT Campus, and introduce you to our program.
Book your campus tour
Virtual 360° Tour
Take our virtual 360 degree tour of the International Department and discover our facilities! Enjoy the view from above and visit example rooms of the dormitory along with their kitchens to get an impression of what living at the CBS is like! Take a look at one of our well-equipped seminar rooms towards the beautiful Karlsruhe Palace or view the hallway with the staff's offices, a welcoming foyer and the auditorium for lectures and events.
Experience our campus at the ID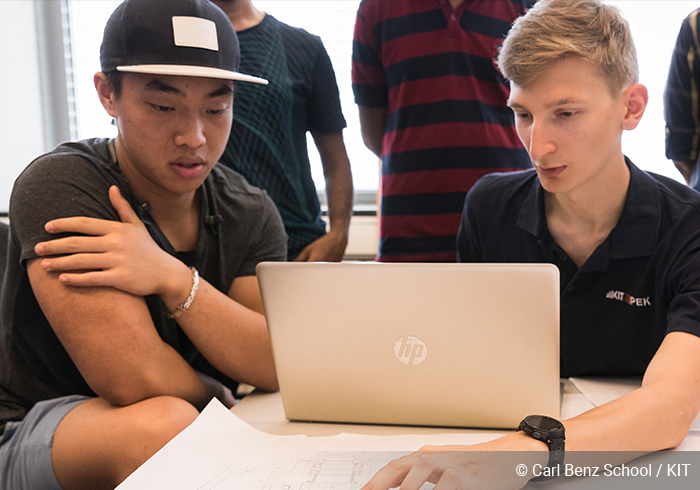 Enrollment Deadline extended
Important information for the winter semester 2022/2023: Enrollment deadline for B.Sc. Mechanical Engineering (International) extended until end of November 2022.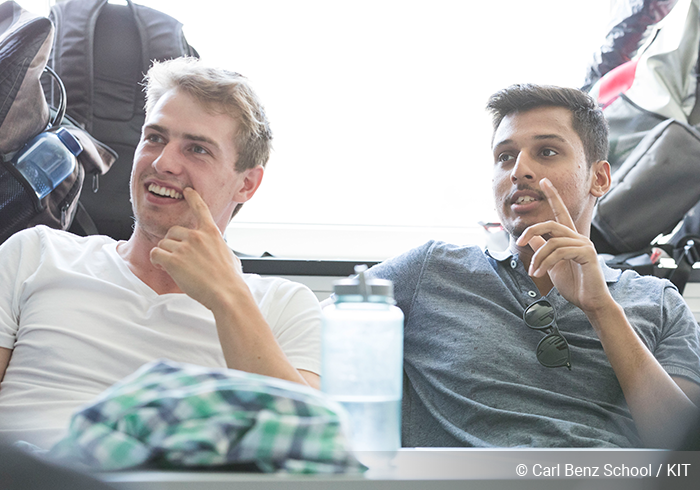 Frequently Asked Questions
Do you have any questions regarding the application process, our admission requirements or the curriculum? Our FAQ (Frequently Asked Questions) section refers to possible questions of interested applicants who are planning to apply and also addresses applicants who already have received a letter of admission from Carl Benz School of Engineering. Take a look and find your answer.
View our FAQs